If you know someone or if you are plannning to visit Japan(Gifu, Aichi, Nagoya area) and looking for something more than just sighteeing, this is the right place for you. Fun and unique place called
"
Wa-Shoku-Ju Sakura
"
(meaning "Japanese food and living Sakura")
have opened in Seki-city,Gifu.

This place
offers very unique lesson called "Any Time New Year program" which you can cook and eat Japanese traditonal new year's cuisine "Osechi" and learn about new year celebration.


Why only about new year? I would say new year is the Japanese biggest festive season like chiristmas in other countries, and we have traditonal way to celebrate it.
Yesterday, I had a chance to join this program to see what it is really like!

<Experience "Any Time New Year Program">
"Hi!" big smile welcome by the host Ms.Yayoi Sakurai. Very nice house with Japanese garden and "Ikebana"(Japanese style flower arrangement ).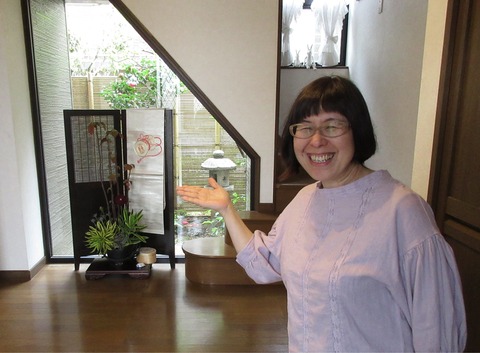 Since I arrived a little bit late, cooking lesson has already started.
Totally 6 guests were there.
Marissa and Augie from the U.S, and their Japanese friend Sumika and her mother, and Betsy and Kc from Hong Kong.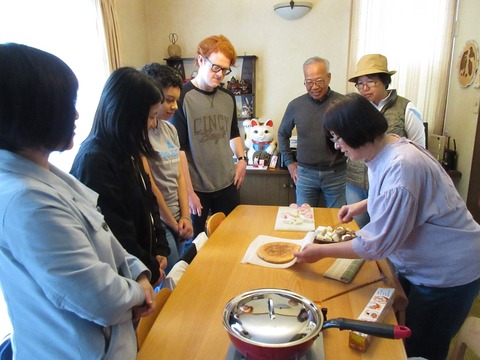 Explaining how to cook in English and Japanese.
With Yayoi-san's friendly personality, everyone enjoys cooking in relaxed atmosphere.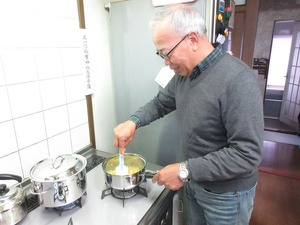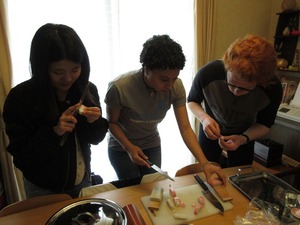 They tried "Kazarigiri"(decorative cutting) to make the "Osechi" more fancy.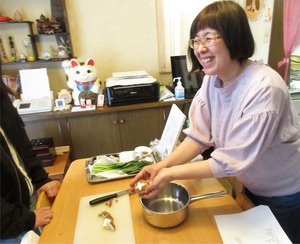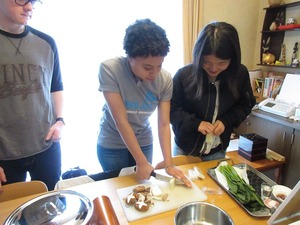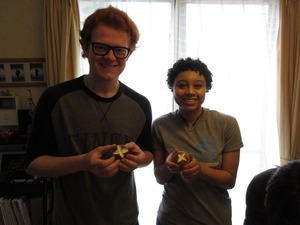 Last work is filling in "Jyubako"(layer food box).
Telling the meaning of why Japanese people prepare those dishes for new year celebration.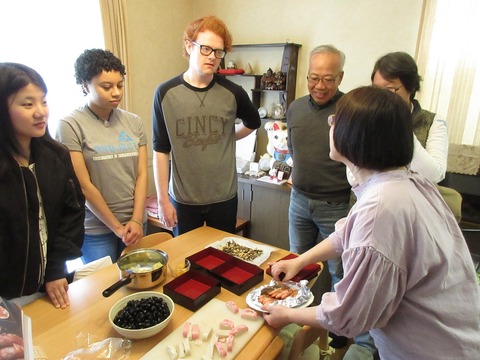 Beautifully done! Don't forget to take pictures before eating.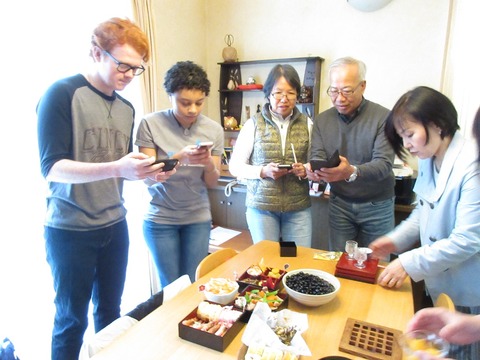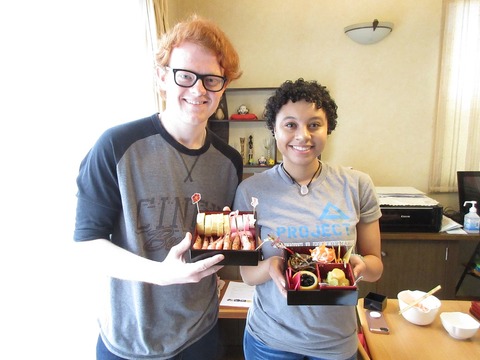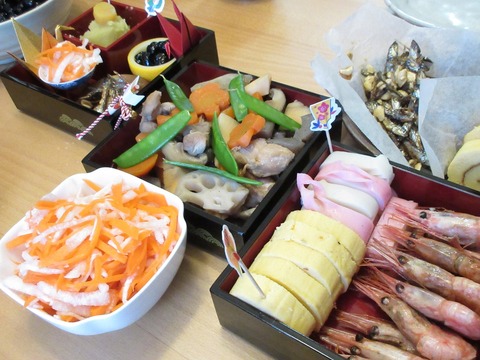 Yay, time to eat! "Itadakimasu"(showing thankfulness to foods and people who prepared.
)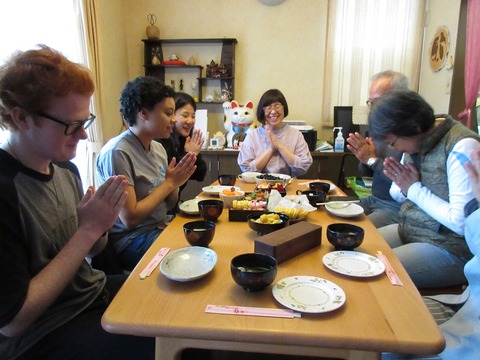 With delicious soup stock, they were all good!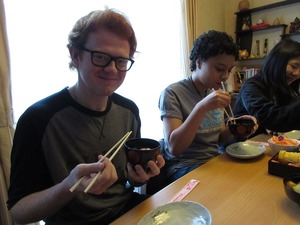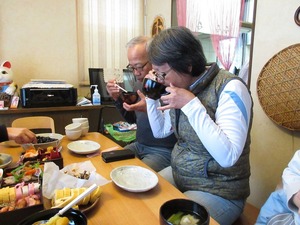 「They all taste great!」「I am so happy having Japanese foods which I love the most」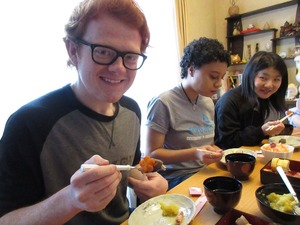 Hardest part was carrot's flower decolative cutting.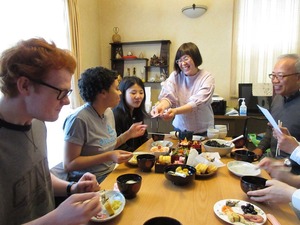 Such a fun experience!

How the guests enjoyed the lesson?
Marissa: "
Great Lesson! I want to come back and make more great food!"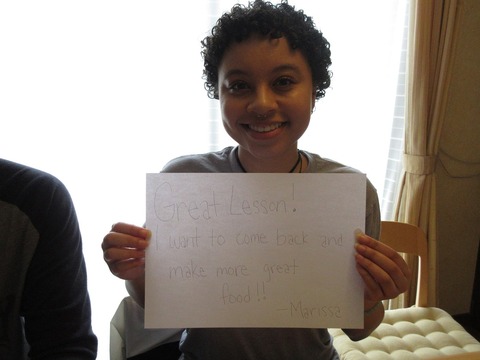 Augie: "
This lesson was very interesting and fun to learn! I wan to come back soon!"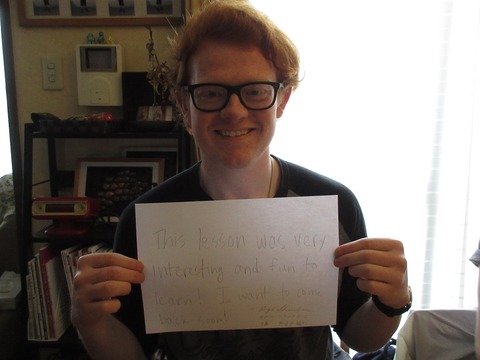 Betsy and Kc: "
Wonderful Lesson , Wonderful Teacher, Wonderful Food, Wonderful Experience"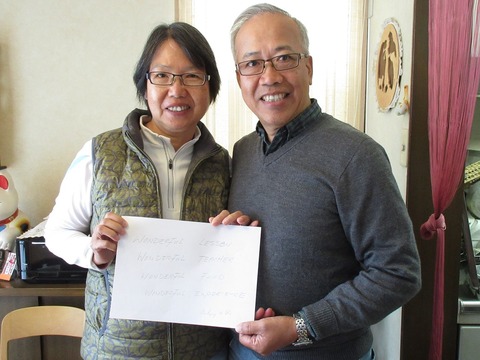 Great comments from all participants!
In this program, you can learn(about Japanese traditional ways to celebrate new year season through the lecture before making dishes), experience, and eat
in 3.5 hours.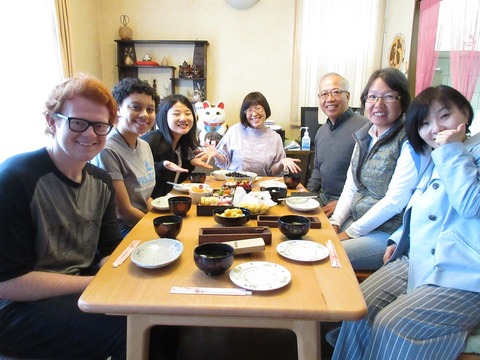 <Why she opened
"
Wa-Shoku-Ju Sakura
"
?>
She opened here because she would like to welcome guests warmly as she was by her friends in all over the world. In addition to this unique program, Yayoi-san's attractive personality is important reason and factor to choose here.

<What is Seki-Biz?>
Seki-Biz(Seki-city Business Support Center)is a public supporting office for small and medium-sized enterprises around Seki city aimng to increase their sales.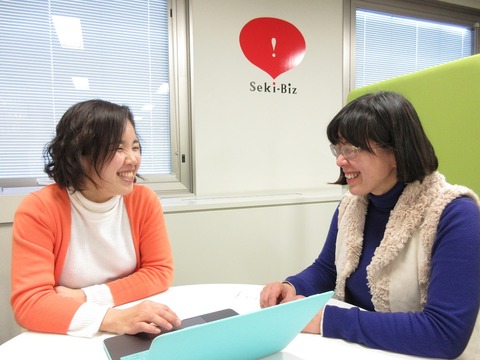 For more information please check here(wa-syoku-ju Sakura's homepage)

※This post is available in Japanese.Click here